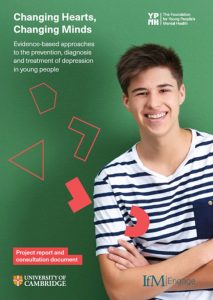 A new report from The William Templeton Foundation for Young People's Mental Health (YPMH) describes new evidence-based approaches to the prevention, diagnosis and treatment of depression in young people.
Changing Hearts, Changing Minds is a new publication from YPMH that is the result of a two-year collaborative project with the University of Cambridge's Institute for Manufacturing (IfM) and its knowledge transfer company, IfM Engage.
The project used engineering analysis methods to 'join up' different areas of research on depression. Innovation methods researched by the IfM's Centre for Technology Management and deployed as facilitated workshops by IfM Engage practitioners were then used to generate and evaluate ideas for early intervention.
The collaboration engaged a wide range of international participants, including researchers from social, biological and psychological disciplines related to depression; research knowledge transfer specialists; clinicians from general practice, clinical psychology and psychiatry; industry, such as diagnostics and nutrition; mental health support charities; school mental health support specialists; and young people and parents.
The project developed the following, which are described in the publication:
A multidisciplinary understanding of how depression develops in young people. The report sets out the key systems, pathways and mechanisms, and how these can offer opportunities for early intervention.
Specific ideas and opportunities for early intervention, including prevention, prediction, detection, diagnosis and treatment.
How the opportunities can be applied to self-care by individuals and their families, the formal healthcare system and the wider mental health support ecosystem, including schools, employers and mental health support charities.
High level suggestions for how the ideas and opportunities can be taken forward to create a better future.
Professor Peter Jones, professor in the Department of Psychiatry at the University of Cambridge and chair of the project steering group, said:
"More young people than ever are suffering from depression, but treatments have changed little in the last 30 years. This project has resulted in a better understanding of the complex pathways that connect an individual's environment, diet, exercise, sleep, use of substances and underlying health conditions with their biological systems – and how all of these factors have a part to play in the development of depression."
Sarah Shenow, Head of Research, MQ Mental health research, said:
"YPMH's report Changing Hearts, Changing Minds is remarkable for three reasons. Firstly, it directly integrates the systems and processes inherent to physical AND mental illnesses. This is very welcome – mental and physical health are intertwined, and it is essential for research to integrate them. To put this in context, people with severe mental illness die around 14-years earlier than those who are unaffected, largely due to tractable physical illness, and young adults with severe mental illness are five times more likely to have three or more physical health conditions than their peers. This is why MQ is launching the Gone Too Soon programme early in 2022; the YPMH report demonstrates more than ever that an integrated approach is essential to transforming lives.
"Secondly, the Changing Hearts, Changing Minds report is focused throughout on how to intervene. This is not ivory-tower theorising, but centred on changing the lives of young people who live with mental illness. Thirdly, the report is explicit about who can intervene and when. By mapping research ideas onto different aspects of the health and care ecosystem, it gives clarity on who and what are the responsible actors able to implement and adopt the ensuing interventions."
Dr Jon Wilson, consultant psychiatrist for Central Norfolk Youth Service, Norfolk and Suffolk NHS Foundation Trust, said:
"This groundbreaking project shows us a better future in which we may be equipped to not only treat but also reduce, and even prevent, the development of this increasingly prevalent, debilitating and often devastating condition. It brings a fresh approach to the challenge by using engineering and innovation management methods to engage a broad spectrum of clinicians, academics, mental health charities, schools, industry and young people and their families."
Peter Templeton, founder of YPMH and executive director of strategic development at IfM Engage, said:
"This collaborative project has shown the value of using engineering and innovation management methods to understand and address mental health conditions such as depression. These methods have enabled outstanding engagement between individuals with diverse knowledge, expertise and experiences, leading to exciting ideas and opportunities to bring about change.
"Changing Hearts, Changing Minds is a consultation document. YPMH is seeking suggestions for improvement and collaboration. Please contact me at peter.templeton@ypmh.org."
Moving ideas forward, in partnership with Aviva Health
The IfM, IfM Engage and YPMH are collaborating with Aviva Health to understand what needs to be done to translate the ideas for innovations identified in Changing Hearts, Changing Minds into practice.
The project is engaging stakeholders from across the mental health ecosystem in consultations and workshops to identify approaches to enable change, identify key barriers and enablers, and widen understanding of the approach and the opportunities it offers to improve wellbeing. Participants include the groups who participated the project described in the report, together with additional stakeholder groups likely to be involved in the innovation, adoption and implementation of the approaches.
Dr Doug Wright, medical director of Aviva Health, said: 'Members of Aviva's clinical and innovation teams participated in the project described in Changing Hearts, Changing Minds, which clearly identified novel approaches to understanding and addressing depression as it develops in young people. Aviva is keen to see these exciting ideas translated into practice and healthcare policy for the benefit of young people, their families and carers. Aviva is supporting the follow-on project to help accelerate the translation and widespread adoption of the most promising ideas.'
About The William Templeton Foundation for Young People's Mental Health
The William Templeton Foundation for Young People's Mental Health (YPMH) is a charitable foundation working to improve the lives of young people by facilitating innovative approaches to resolve mental health conditions.
YPMH was established in memory of Will Templeton, by his parents Anne and Peter and his brother John. The family's aspiration is to enable the 'joining-up' of excellent research and practice across the many fields associated with young people's mental health to improve the prevention, identification, diagnosis and treatment of conditions such as depression and anxiety.
About the Institute for Manufacturing (IfM)
Part of the University of Cambridge's Department of Engineering, the IfM is a dynamic body of researchers, educators, practitioners, professionals and technical experts contributing to world-leading research and education. With a focus on manufacturing industries, the IfM creates, develops and deploys new insights into management, technology and policy.
About IfM Engage
IfM Engage is a knowledge transfer company within the Institute for Manufacturing, with
a mission to transfer and integrate world-leading knowledge and solutions to make a lasting difference to the future of manufacturing and the wider ecosystem.
Embedded in the IfM, IfM Engage uses new insights, ideas and approaches emerging from world-leading research across management, technology and policy. Its services are delivered by industrial experts who tailor and combine insights and tools to bring meaningful change across businesses, governments and academic institutions around the world.
About the Centre for Technology Management
The Centre for Technology Management (CTM) at the IfM researches processes and practices for identifying, selecting, acquiring, exploiting and protecting technology for business benefit.
CTM engages in research, teaching and practical application of new ideas based on an integrated understanding of science, engineering and business management. By working with organisations at all stages of technological development, it aims to provide comprehensive support from early-stage exploration, through multi-business unit technology strategy to end-of-life issues.
About the Aviva-Cambridge partnership
Aviva PLC has been a strategic partner of the University of Cambridge since 2018. Through the partnership, the two organisations collaborate on research, education and training with the shared aim of achieving positive societal impact.